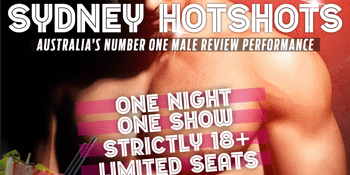 Sydney Hotshots
Manly Leagues Club (Brookvale, NSW)
Saturday, 26 October 2019 7:00 PM
Doors Open 7.30PM
Show to commence approximately 8.20PM (subject to change)
Manly Leagues is an iconic venue supporting live music. Prior to the show we invite you to enjoy a meal at The Club House Brasserie or The Golden Dumpling Noodle Bar, or just a drink or cocktail in the lounge.
Check out our menus at www.manlyleagues.com.au/eat for The Club House Brasserie or The Golden Dumpling Noodle Bar, Bookings go to: www.manlyleagues.com.au/make-a-booking


The stage is set! Smoke fills the room, Music is playing, Lights shining, hearts are racing, and blood is pumping.
As the curtains open our guys appear in the opening routine direct from the Movie Magic Mike.
Every girls fantasy is fulfilled as the Hottest Guys from around the world strut their way through sexy dance routines in what only can be described as electrifying entertainment.
The night promises to be an unforgettable evening as the Ultimate Male Revue Show explodes on stage for next 2 hours.
The show also promises interaction with the audience including lucky girls being whisked onstage to be romanced and serenaded by the men of Sydney's Hotshots.
It's the most fun a girl can have standing up, they will be screaming and laughing and thoroughly entertained for an unforgettable night.
Leading the show is our very own Mathew McConaughey who hails from the Excalibur casino in Las Vegas. Each performer is handpicked from all over the world, they audition at the vegas lounge every Saturday Night in our 11 million dollar venue in kings cross ( The Vegas Hotel) and if they pass the test they get trained up in our boot camp and then head on tour to see our beautiful country and perform for all the gorgeous ladies in Australia.
This show is renowned for their high-powered dance routines, live singing, acrobatic tricks, sensational bodies, comedy, costumes, spectacular lighting and unique blend of sex appeal. The Hotshots have been favourite guests for television appearances, including the Midday Show, Sunrise, Good Morning New Zealand and countless radio programmes and newspapers all over Australia and New Zealand and soon to be in the USA, and this year the Hotshots are exciting to present their brand-new show Magic Mike XXL- Direct from the Movie.